Souriau Trim Trio Harsh Environment Connectors
Featured Product from Mouser Electronics, Inc.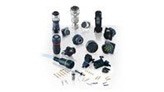 Souriau Trim Trio™ Industrial Connectors are ideal for applications ranging from sophisticated electronic devices to rugged industrial equipment used in harsh environments. These waterproof connectors are offered in robust plastic, shielded metal, and hybrid plastic/metal options. Trim Trio's unique contact system can be used in any connector and in any position.