Tiny Module for Secure IoT Designs at Mouser.
Featured Product from Mouser Electronics, Inc.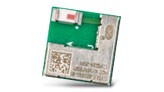 Cypress EZ-BLE™ PRoC™ BT 4.2 Module (CYBLE-222014-01) comes fully qualified/certified for BLE wireless communication and leverages a small form factor with built-in security. Being 10 x 10 x 1.8mm in size, this module enables space-constrained applications and allows for secure data transfer being BT 4.2 compliant and incorporating LE secure connections.