Radiation Shielding - Tantalum Enclosures
Product Announcement from MuShield Company, Inc. (The)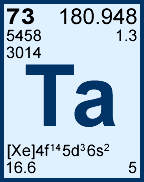 MuShield is proud to announce that the company has ventured into the field of radiation shielding by successfully producing radiation shields out of 99.95% pure tantalum sheets.
Tantalum shielding can be found in defense technology, nuclear reactors and components, electronic components and x-ray technology.
MuShield has the capability to hydroform, spin, draw, form, weld and anneal Tantalum products.
Tantalum is ideal in high temperature applications, as it registers a melting point of 5425°F (2996°C).
MuShield's experience as a leader in custom magnetic shielding has made for an easy transition into the Tantalum shielding market. Contact us today for questions regarding Tantalum shielding at info@mushield.com.
***************************************
TANTALUM is a rare specialty metal with the highest capacitance (ability to hold and release electricity) known to science.
Essential for electronic devices:
Cellular phones
Computers
Digital audio/video players
Airbags
Corrosion/heat resistant materials
GPS (Nuclear power plants)
For specialty applications:
Jet engines
Medical (Trabecular metal implants)
Carbide cutting tools
Corrosion/heat resistant materials As technology for electronic devices progresses, need for tantalum rises.
Special Qualities of Tantalum Products:
Corrosion Resistance
Thermal Conductivity
Melting Point: 5425oF (2996oC)
"Getter" Characteristics -absorbs surrounding gases and vapors extremely well at elevated temperatures
"Valve Action"
---