Seamless High Permeability Magnetic Shield Tubing
Product Announcement from MuShield Company, Inc. (The)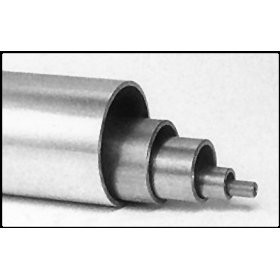 MuShield's seamless tubing shielding capability is 20-30 percent better than a formed and welded product, depending on the welding method used. The seamless tube offers complete shielding homogeneity and attenuation uniformity throughout the walls and length of the tube.
MuShield's product can also decrease machining times significantly and save on material costs, important for applications with tight tolerances on machined details and roundness.
When compared to machining product from solid bar or fabricated cylinders, the MuShield seamless tubing is a sure choice. It can hold both outside and inside diameters to +1- .002-inch along with wall thicknesses within .002-inch. MuShield seamless tubing is available with wall thicknesses from .005-inch through .250-inch. Sizes range from outside diameters of .080-inch to 2.625-inches. Lengths are up to 20 feet. M1iShield seamless tubing meets the standards of ASTM A753-08, standard specification for wrought nickel-iron soft magnetic alloys.
"A T Wall was able to use its deep drawing capabilities to take plate supplied by MuShield, cup it and then draw it into tubing. Being able to supply the product in tubing form greatly reduces the cost of manufacturing for Mu Shield and its customers as it reduces scrap." said Donna Parker, A.T. Wall's director of sales.
A.T. Wall Company is a subsidiary of ATW Companies, which also includes Judson A. Smith
Company, located in Boyertown, PA, and Pannatech Corporation, located in Petaluma, CA.
---