350 psi Resilient Wedge Gate Valves
Product Announcement from Mueller Company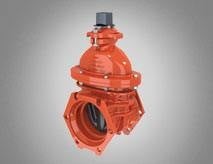 350 psi Resilient Wedge Gate Valves
Mueller Resilient Wedge Gate Valves have features to make them easier to operate, preserve sealing capability, and interior coating integrity for many years of reliable service. In addition to popular end connection options, Mueller brand RW valves can be ordered with Mueller's exclusive AquaGrip® System that incorporates an o-ring sealed compression connection and integral pipe restraint in one "ready to use" easy and quick to install package.
Download our FREE App Today!
Converting your service brass business to the leading waterworks manufacturer has never been easier.
The Mueller® Waterworks Product Training School is where you can learn the latest about Mueller products, field tips, installation techniques and maintenance procedures. In this unique relaxed environment you will learn how to manage today's complex water systems more efficiently and effectively.
Preferred Source for Water Distribution Products for more than 150 years...
Since 1857, the Mueller name has been known for innovative Water Distribution Products of superior quality. We are North America's largest and only full-line supplier of potable Water Distribution Products. Our products are used throughout the water system from source to customer.
We catalog thousands of items to suit the needs of virtually any water system application, and for use with any water main or service line pipe material. Mueller® Water Distribution Products are available through Authorized Mueller Stocking Distributors in all parts of the United States, and are sold around the world through qualified representatives.
The Mueller® Product...
Is thoughtfully designed to make application and installation as easy and error-free as possible.
Includes features intended to enhance maintainability and help assure that the full service life of the product is attained.
Is backed by the Mueller engineering, manufacturing, sales training, and customer service staff to promote the purchaser's satisfaction before and after the sale.
Benefits the purchaser with long-term value that goes beyond the purchase price, helping to reduce lifetime cost of ownership.
---