Die Cutting Services - Various Materials
Product Announcement from Mueller Die Cut Solutions Inc.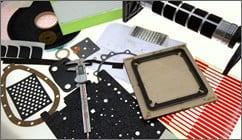 Vibration dampeners, Gaskets and seals, EMI-RFI shielding, Filtration, Diaphragms, Kiss cut parts in sheets or rolls, Medical sterilization products, Paint masking kits, Multi-layer composites and laminations, Non-skid surface products, Zoned and back-slit adhesive products
Trusted, Performance Driven and Cost Conscious
That's a perfect description of our Industrial Business strategy. We've proudly kept our status as a valued supplier to various Fortune 500 companies and many regional businesses since the 1940's. These relationships were built on an unwavering commitment to delivering what you want and when you want it. We do it all locally and around the world from our Charlotte, N.C., and Suzhou, China facilities.
Since each customer's application is unique, we put into action our global, cutting-edge supply base. We then utilize proprietary designed software and highly experienced staff that focuses on every detail of your project. Mueller has an unparalleled host of capabilities. Using tool-less / die-less converting equipment, we have the ability to provide rapid prototypes which enables a quick transition from design to production. Customer support programs from KAN-BAN thru consignment ensure that your parts are delivered on time. Our unmatched optimization of light, flexible materials guarantees that we yield the highest number of parts possible, driving out waste and keeping you competitive.
Our unique customer support structure consists of a sales professionals, Business Development coordinators, CSRs and cost engineers. This team is at your disposal to ensure a smooth and efficient project transaction from start to finish. Mueller invites you to visit either of our facilities. We guarantee your visit will reveal that partnering with us will provide you the most innovative, efficient and cost effective solutions for your business
---