Custom Engineered Cable
Service Detail from Multi/Cable Corporation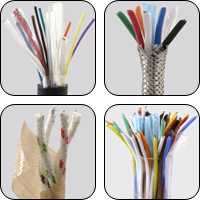 By definition, off the shelf cable products do not give end-users the chance to decide on many critical features of the finished product. Large cable companies have already decided upon the design, materials, tolerances, and manufacturing techniques to be used for their products before the customer comes into play.
Multi/Cable's custom cable products are designed & manufactured to suit the specific needs of our customers' applications. They are an integral part of the system & it's performance. Advantages of a custom-engineered cable include being able to:
Determine physical and electrical tolerances.
Define the components (insulation, shield, jacket, etc.) that best fit your application.
Combine various functions, such as power, signal, coax, shielded subassemblies, and optical fiber into one cable.
Optimize the conductor count, stranding, size, and color-code.
For these reasons, more and more people are relying on the products and services we provide for the total systems confidence they need.
MULTI/CABLE CORPORATION, founded in 1975, is recognized today as a leading manufacturer of multi-conductor, multi-pair / triad and speciality composite wire and cable.
We believe in supplying customers with the exact product they need, in the needed amounts, when they need it. This means:
Our engineering staff is available to assist in custom constructions.
We can "cross match" to other manufacturer part numbers.
We have the lowest minimum order quantities in the business.
And we offer quicker delivery than our competitors.
We serve customers in all industries, including aerospace, agriculture, defense, food processing, medical instrumentation, broadcasting, petroleum, utilities, wire harnessing, automobiles, robotics, oil refining, and more.
Our product line utilizes a wide variety of conductors, insulating, shielding, and jacketing materials so that we can assure our customers the proper cable for their most critical applications. To guarantee quality, we test to the most up to date industry standards such as UL, NEMA, ICEA, and ISA.
Our years of experience in supplying the world's largest wire and cable distributors, industry leading OEMs and everyone in between have truly made us "The Wire People". Our sales and engineering staff welcome your inquiries; therefore, please do not hesitate to contact us for any pertinent wire and cable information.
As a custom manufacturer of electrical wire & cable, we're always developing new specialty cable products to meet the needs of our customer's unique applications.
While we truly excel in custom cable manufacturing, we're also constantly making industry standard cable constructions - from the simplest hookup wire to the most complex multiconductor cable. Often times, customers simply provide a competitor's part number, and we manufacture to that exact specification.
Overstock Inventory | Great Values
Multi/Cable's extensive engineering and manufacturing capabilities allow us to be able to meet the needs of virtually any electrical wire and cable application. Our products can be found everywhere, from the wiring in electrical devices to the site of Boston's Big Dig project.
From 500,000 feet of single conductor hook-up wire, to 500 feet of a 100 pair thermocouple cable, from geophysical exploration cable to be used in arctic conditions to high temperature cable for industrial furnaces, we will meet your needs!
---