8000 Series Five-Axis CNC Router
Product Announcement from MultiCam, Inc.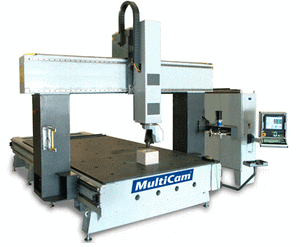 MultiCam 8000 Series Five-Axis Routers offer the ultimate in high-performance CNC machining. Choose from a broad range of standard table sizes and Z-axis open-height configurations.
Designed for high-speed, heavy-duty routing, 8000 Series five-axis machines are easy to configure to meet demanding application requirements in woodworking, plastics, non-ferrous metals and composites industries.
Heavy-duty, structural-steel, tubular-frame construction coupled with a space-saving, moving-gantry design make the 8000 Series five-axis a robust, commercial-grade machine designed for today's competitive manufacturing environment.
No machine in its class offers more standard features than the MultiCam 8000 Series Five-Axis Router.
• High-performance OSAI five-axis control/drive package
• Stress-relieved, precision-machined, all-steel frame
• Unique RAM-Z axis assembly
• 35-mm linear ball-bearing profile rails
• 2700-IPM rapid traverse
• Standard automatic tool calibration
Five-Axis Applications
Five-axis CNC routing opens up a world of new applications for the end user including edge trimming thermoformed and molded plastic plus composite parts. Often featuring interior cutouts on an angled plane, they require simultaneous five-axis machining. Other applications include deep-cavity mold making that requires short tools. Molded plywood chair and decorative furniture parts require simultaneous five-axis machining many times.
Remember that a MultiCam five-axis CNC router can rotate in 90% increments and machine horizontally on all four sides of a part plus perform simple vertical machining from the top. Shops that don't think they have five-axis work may in fact benefit because this table allows machining on five separate sides of a part.
Many years ago, shops wondered why they should switch from manual mills to CNC. The scenario for investing in five-axis machining technology is similar. Those who didn't switch to CNC were left behind eventually. With any business, investing in the latest technology is a requirement to stay on top and compete effectively. Five-axis machining reduces overall setup time, increases accuracy and can expand your shop's capabilities for future work.
Gantry
The gantry is a 0.5" thick, 20" x 12" internally-ribbed rectangular structural steel tube mounted on machined pads on the top of each box frame support. We weld, stress relieve and precision machine the gantry that features internal ribbing, ensuring a smooth, vibration-free cut. Dual 35-mm linear bearings spaced on 18" centers provide maximum RAM-Z axis assembly rigidity.
Gantry Supports
Two heavy box-frame steel weldments support the gantry. Each gantry support rides on four 35-mm bearing blocks on both sides of the machine for eight bearings total. We space each bearing 31" center to center, giving extraordinary rigidity and vibration-free movement of the gantry in the X axis. The result is over 76,800 pounds of bearing support capability on a gantry/Ram-Z axis assembly weighing approximately 7000 pounds. That's over a 10-1 safety ratio, which assures durability, smooth movement and accuracy over the life of the machine.
---