High Frequency (HF) Test & Measurement Accessories
Product Announcement from Multi-Contact USA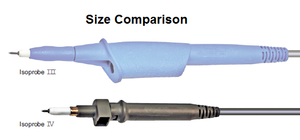 Multi-Contact's HFline product family includes passive and active high-frequency test probes (HF probes) and accessories as well as touch-protected BNC plug connectors, leads, adapters and converters.
The new Isoprobe IV generation of passive probes is a highly compact addition to the MC range of touch-protected high-frequency probes. The greatly reduced size of this new product substantially facilitates the conduct of measurements in a restricted space, while still retaining the good electronic characteristics of MC Isoprobe test probes.
Despite their compact construction and correspondingly smaller clearances and creepage distances, the Isoprobe IV probes have a high touch protection rating of CAT III at 300 V.
The Isoprobe IV generation is particularly suited for electronics engineers, while the probes of the Isoprobe II and Isoprobe III series are designed primarily for electricians. The Isoprobe IV models are available as 10:1 and 100:1-divider probes.
Isoprobe IV are available singly or in a set with accessories specially adapted to the new probes.
Our HF oscilloscope probes of the Isoprobe III generation are for use at up to 1000 V, CAT III (600 V, CAT IV) according to IEC / EN 61010-031:2002. This results in new fields of application in CAT III- and CAT IV environments (Measurement Categories), such as the analysis of house and building installations with mains analysis/mains monitoring devices.
The use of a coaxial connecting cable with a particularly low capacitance, together with modifications in the interior of the probe, results in a further improvement in the electrical characteristics (e.g. a lower input capacity) compared with the tried and tested Isoprobe II generation of probes.
---