Medical Industry Connectors
Product Announcement from Multi-Contact USA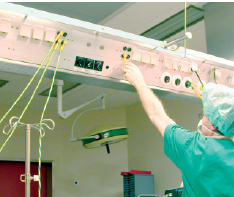 In medical technology the high dependability of all components is a particularly crucial factor – in intensive care units, for instance, where human life often depends directly on the correct operation of the connected medical equipment.
Our plug connectors for electromedical equipment incorporate our many years of experience in the field of contact elements, and are in line with the customary high quality standard of MC products.
Connecting Leads for Potential Equalization in accordance with DIN 42801
The purpose of additional potential equalization is to equalise potentials between different metal parts that can be touched simultaneously, or to reduce differences of potential which can occur during operation between the bodies of medical electrical devices and conductive parts of other objects.
Our newly developed POAG socket is designed for screw lead termination so that no special tools (crimping pliers) are needed.
The use of high-quality components ensures dependable potential equalization in places where it is particularly important: in hospital facilities and medical practices.
We supply the new POAG socket separately for the self-assembly of potential equalization leads, as well as leads ready assembled with this socket.
The features of the new POAG socket at a glance:
Screw connection is simply effected by means of a standard Allen key (no special tool needed)
Good price-performance ratio of the POAG sockets and assembled leads
Nickel-plated socket and gold-plated Multilam for dependable, durable contact
Design in accordance with DIN 42801 part 2
Our new product group Medicalline uses the tried and tested MC-Multilam® and gold-plated contact elements to ensure the very highest dependability and corrosion resistance in all connectors.
The employed insulating materials silicone and TPE are suitable for steam sterilisation and on that score meet the special requirements of medical technology.
The raw materials employed by us are carefully selected and well tolerated by the skin. However, the properties of the materials may be altered by the addition of substances such as colorants, so that in individual cases the skin toleration of the end products should be tested by an external body.
This catalogue presents the Medicalline range of connectors and leads which we are now building up in order to meet the special needs of medical technology.
In addition to the standard articles shown here, on request we also offer special solutions to meet the customer's individual needs. Ask us!
Products:
Connectors for equipotential grounding (DIN 42801)
Touch-protected 1.5mm and 2mm diameter connectors, adapters and connecting leads (DIN 42802)
Universal electrode clips
Features:
Fully touch protected
Suitable for steam sterilization
Highly flexible connecting leads
Multilam equipped
---