Microampere Current Sensor
Featured Product from MultiDimension Technology Co., Ltd.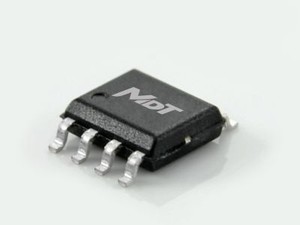 TMR-MAC005 Microampere Current Sensor
TMR-MAC005 is a microampere current sensor incorporating high sensitivity tunneling magnetoresistive (TMR) sensor and Integrated coil with anti-magnetic interference design.
TMR-MAC005 provides 10 mA measuring range, 150 nA and standard SOP8 package.
Features and Benefits:
Tunneling magnetoresistance technique

Low current measurement

150 nA high resolution

Excellent temperature stability

Wide operating voltage range

Compact size
Applications:
Weak current measurement

Bioelectric current measurement

Industrial sensor

Instrument and equipment.
Introduction to TMR Magnetic Sensors
MultiDimension Technology(MDT®) was founded in 2010 in Zhangjiagang, Jiangsu Province, China, with branch offices in Ningbo, Shanghai, and Chengdu, China and San Jose, Calif., USA. MDT has developed an unique intellectual property portfolio, and state-of-the-art manufacturing capabilities that can support volume production of high-performance, low-cost TMR magnetic sensors to satisfy the most demanding application needs. Led by its core management team of experts in magnetic sensor technology and engineering services, MDT is committed to creating added value for its customers and ensuring their success.
MDT 's Service Options Include:
In-plane and Z-axis TMR sensors, which may be delivered as wafers, bare dice, or packaged devices
Custom design for TMR/GMR/AMR sensors
ASIC design for integration with TMR/GMR/AMR sensors
Foundry service for TMR/GMR/AMR sensors including thin-film deposition, device processing, packaging and testing
Custom sensor module design and application solutions
IP licensing, granting customers access to MDT 's technology for use in their products