Three-Axis Low-Field USB Magnetometer
Featured Product from MultiDimension Technology Co., Ltd.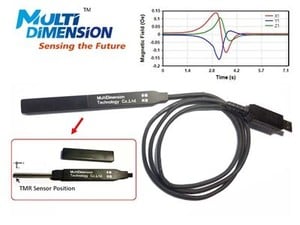 USB27053 – Three-Axis Low-Field USB Magnetometer
Applications:
High Resolution Laboratory Measurements
Automated Data Acquisition and Control
Materials Research
Non Destructive Testing
Magnetic Object Tracking
Sensor Algorithm Development
STEM Education
Hobby and DIY
The MDT USB27053 is a three-axis digital magnetometer that is intended for the measurement of magnetic fields near the probe tip at frequencies less than 200 Hz. The MDT USB27053 combines three orthogonal MDT TMR2705 TMR full-bridge magnetic field sensors with plug-and-play USB data acquisition electronics and software to provide a three-axis digital magnetometer system in a simple form factor. It is designed such that the user may use it directly combined with the proprietary MDT graphical user interface (GUI), controlled with a terminal emulator program, or integrated into the user's custom written program. The GUI can be run on a desktop computer, a notebook, or a Windows tablet. Additionally, the probe electronics may be reprogrammed by the user using freely available open source Arduino development tools. The MDT USB Magnetometer is thus a complete development tool that allows a user a simple means for experimenting with MDT TMR sensors, sensor applications, and developing sensor algorithms.
Features and Benefits

High Sensitivity Tunneling Magnetoresistance (TMR) Technology
Measurement Range of -50 Oe to 50 Oe
High Resolution
Plug and Play USB Interface
Powered from USB Bus
Graphical User Interface
Command Line User Interface
Manual Range Selection
Adjustable Filtering and Averaging
Simple Zeroing and Calibration
Customizable Linearization and Orthogonalization
Documented Programming Interface
Reconfigurable Hardware
Manual and Automatic Triggering
MultiDimension Technology(MDT®) was founded in 2010 in Zhangjiagang, Jiangsu Province, China, with branch offices in Ningbo ,Shanghai, Chengdu China and San Jose, Calif., USA. MDT has developed an unique intellectual property portfolio, and state-of-the-art manufacturing capabilities that can support volume production of high-performance, low-cost TMR magnetic sensors to satisfy the most demanding application needs. Led by its core management team of experts in magnetic sensor technology and engineering services, MDT is committed to creating added value for its customers and ensuring their success.
MDT 's Service Options Include:
In-plane and Z-axis TMR sensors, which may be delivered as wafers, bare dice, or packaged devices
Custom design for TMR/GMR/AMR sensors
ASIC design for integration with TMR/GMR/AMR sensors
Foundry service for TMR/GMR/AMR sensors including thin-film deposition, device processing, packaging and testing
Custom sensor module design and application solutions
IP licensing, granting customers access to MDT 's technology for use in their products