750 SERIES II-Conductivity/TDS Monitor/controllers
Featured Product from Myron L Company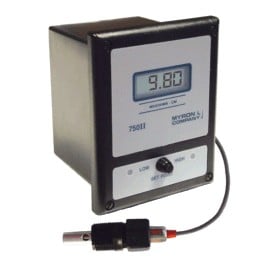 The unique circuitry of the 750 Series II Conductivity Monitor/controllers guarantee accurate and reliable measurements. Drift free performance is assured by "field proven" electronics, including automatic DC offset compensation and highly accurate drive voltage.
Since temperature compensation is at the "heart" of accurate water measurement, all Myron L Monitor/controllers feature a highly refined and precise TC circuit. This feature perfectly matches the water temperature coefficient as it changes. All models corrected to 25°C. Uncompensated models available to conform with USP 25.
A push-to-test button makes setpoint checks easy, while the internal alarm set discourages unauthorized adjustments.
Standard on all controller models is a heavy-duty 10 amp output relay, operating on either increasing or decreasing readings. Bright green/red LEDs indicate above/below setpoint readings.
All 750 Series II models feature an IP65/NEMA 4X water resistant and corrosion-proof rated enclosure while being a compact size at 6x4.8 inches (15.2x122mm). They are suitable for panel, bench or surface mounting.
Additional options include a 3 Sensor input, a 3 Range switch (both installed separately from the monitor/controller) and a Remote Alarm - RA™. See price list below for complete list of options and accessories. Custom and OEM Models available. Contact us with your requirements.
For more info visit: http://www.myronl.com/products/cond_monitors.htm