TECHPRO II™ SERIES
Featured Product from Myron L Company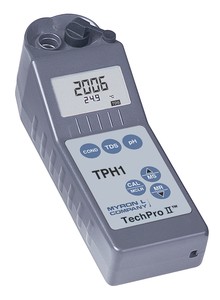 Conductivity Meters, TDS, pH and Temperature
Every industrial, commercial or natural water source contains dissolved solids or salts. These impurities contribute to the scaling and corrosion of equipment, affect industrial and commercial processes and contribute to poor taste and other deficiencies in drinking water.
Please use the links to the right to view additional information, ask a question or request a quotation.
To download or request product literature: http://www.myronl.com/main/literature_request.htm
Please note: TechPro™ AR1 and ARH1 models have been redesigned and replaced by TechPro II™ models TP1 and TPH1. We anticipate a 1st Quarter 2007 availability date. The PH1 is available now.