Isola™ PRO Filtered Workstation Chemical-resistant
Featured Product from Mystaire, Inc.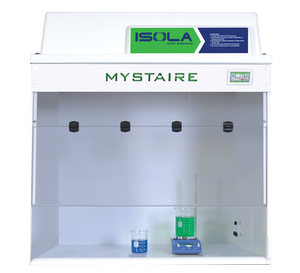 ISOLA™ PRO FILTERED WORKSTATION
Isola™ PRO polypropylene filtered chemical workstation removes toxic particulate, chemical fumes and vapors protecting both the operator and the environment. Isola™ PRO polypropylene filtered workstations, standard with a thermally-fused integral spill tray, offer excellent chemical resistance for corrosive applications. Isola™ PRO polypropylene filtered chemical workstations allow for a wide range of applications. The Isola™ Series of filtered chemical workstations have been designed to accommodate up to six-inches of filtration. The design of Isola™'s filtration matrix allows for stacking of a HEPA filter, followed by a gas-phased carbon filter, thus allowing the workstation to effectively remove both toxic particulate and chemical fumes and vapors. For high evaporation or multiple chemical applications, a full six-inch stack of gas phase carbon filtration may be incorporated. Isola™ PRO offers the end user and laboratory many options for fume containment as well as flexibility in laboratory design.
Isola™ Filtered Workstations
Isola™ Series Filtered Chemical Workstations are a series of ductless chemical enclosures that offer industry leading microprocessor controls, superior filtration capabilities combined with a variety of chamber construction materials to meet and exceed today's laboratory challenges. Since 1959, Mystaire® has engineered and developed filtration products that ensure operator safety while eliminating environment contamination and promoting a greener laboratory culture. The Isola™ filtered chemical workstation series are a direct result of the last fifty-plus years of industry experience, improved science and technology offerings and customer feedback. Isola™ filtered chemical workstations are a series of high efficiency products that provide protection to the end user and environment from hazardous chemical fumes and vapors generated during routine laboratory experimentation and manipulation. At the core of Isola™ are technologies that constantly monitor and maintain face velocity, monitor and notify filter saturation and monitor environmental conditions that affect lsola™'s performance. These core technologies are part of the EverSafe™ Ill TOUCH Control Advanced Microprocessor that offers simple and effective one-touch Icon control of all workstation functions. The heart of ISOLA™ filtered chemical workstation is the filtration matrix that provides for a three stage filtration process to effectively adsorb and capture a wide range of contaminates that includes gases, vapors and powders.
FEATURES
EverSafe™ III TOUCH touch screen controller constantly monitors fume hood performance with audible and visible alarms
Vividly displayed status of face velocity in linear feet per minute or meters per second
18-Icon display for simple touch control of hood features and functions
LED lighting for true illumination of the entire work area
Three-stage filtration to confirm to SEFA 9-2010 DHIII recommendations
Single-wall, thermally-fused structural polypropylene construction— superior chemical resistance
Variable airflow control with automatic airflow sensor calibration
Solid-state gas detection with three sensitivity set points
Conforms to UL, CSA and CE electrical requirements
Integral polypropylene spill basin with rolled foil entry
110 or 220 V AC
Built-in filter and application validation
Optional installation of polypropylene sink
Available in 36, 48 and 72 inch widths with a nominal depth of 28 inches
EverSafe™ III TOUCH advanced microprocessor controller
Isola™ PRO Filtered Workstations are fitted with the EverSafe™ III TOUCH advanced microprocessor safety controller. EverSafe™ III TOUCH features a LCD display of face velocity to assure users they are working within OSHA requirements. Sophisticated controls determine chemical breakthrough based on the type of solvents used within the hood. Visual and audible alarms alert operators if the airflow is at an unsafe level or if filters are approaching saturation, allowing sufficient time to replace filters. EverSafe™ III TOUCH maintains fume hood face velocity by taking constant measurements at the opening and adjusting airflow to ensure compliance to user preset values.
Filtration
Safety, in one word describes the benefits of ISOLA™ Series Filtered Chemical Workstations. The unique filtration matrix found in ISOLA™ allows it to perform above the SEFA 9-2010 DH III recommend practice guideline. The user's safety is constantly maintained. ISOLA™ filtered chemical workstations have real time built-in features that monitor and prevent unsafe conditions without requiring user interaction.
The ISOLA™ Series Filtered Chemical Workstation filtration matrix is comprised of three unique and separate zones that effectively adsorb and capture toxic gases and particulate. Between filtration Zones 2 and 3 Isola™ electronically monitors filter saturation level and alerts the end user if a high temperature or high humidity event is present thus ensuring operator safety.
HOW IT WORKS
Laboratory room air enters into Isola™
The contaminants are mixed with laboratory air
Contaminated air is filtered through either gas phase carbon filtration or mechanical filtration
Air is constantly monitored for filter breakthrough as well as temperature and humidity
Air passes through the safety filtration zone before returning to the laboratory
SPECIFICATIONS
| SPECIFICATIONS | MYISL36P | MYISL48P | MYISL72P |
| --- | --- | --- | --- |
| Internal Dimensions | 35.5″ W x 36.5″ H x 24.5″ D | 47.5″ W x 36.5″ H x 24.5″ D | 71.5″ W x 36.5″ H x 24.5″ D |
| External Dimensions | 36″ W x 51″ H x 28″ D | 48″ W x 51″ H x 28″ D | 72″ W x 31″ H x 28″ D |
ACCESSORIES
Heavy Duty Stand
Our white, epoxy-coated stands are engineered and designed to support the Isola™ Series Filtered Chemical Workstations. The stands are constructed of 1.5" tube stock 14-guage cold-rolled steel. They are designed to be flat packaged and assembled onsite by the end user. Each Isola™ Filtered Workstation is designed to be secured to the corresponding stand, once assembled, using the hardware that is supplied. Each Isola™ stand features a two-position movable base bar for wheelchair or laboratory chair compatibility. Standard height of 34 inches with the ability to adjust the leveling feet makes the Isola™ stand meet ADA requirements.
Polypropylene Laboratory Sinks
Many laboratory applications require a sink within the work area for the disposal of liquids used in the approved application. Mystaire® offers a full line of polypropylene sinks that are ideal for this application and can be easily installed in the work surface of any Isola™ filtered chemical workstation. Constructed from polypropylene, the sinks are lightweight and chemical-resistant, making them ideal for most laboratory applications.