Forensic Focus Friday
Featured Product from Mystaire, Inc.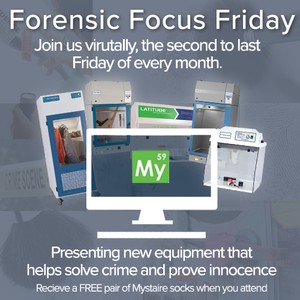 Mystaire has a complete line of forensic equipment that helps solve crime and prove innocence.
You're invited to join us virtually the third Friday of every month for Forensic Focus Friday. We will present and detail different forensic equipment and answer any questions you may have.
We highly encourage questions during this live, educational, and informative session. Register for sessions in advance and view our webpage to find out which equipment you're interested in learning more about.
We look forward to seeing you there!