Cyanoacrylate Fuming Chamber
Featured Product from Mystaire, Inc.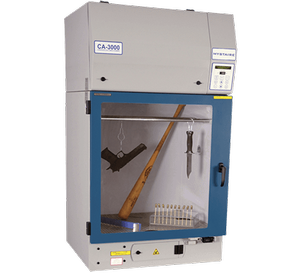 Mystaire® CA Series cyanoacrylate fuming chambers are the standard by which automated latent print development chambers are measured.
The patented recirculation filtration system with precise process controls for time, temperature and humidity put Mystaire CA chambers in a class of their own.
The CA Series is constructed from powder coated aluminum with an automatically locking safety glass viewing door. Microprocessor control allows the operator to set fuming cycle time and relative humidity levels between 50-80%.
What is the cyanoacrylate fuming method?
The cyanoacrylate fuming method, or superglue fuming method is the forensic process of heating cyanoacrylate in order to capture latent, or not yet visible fingerprints assumed to be on non-porus evidence. The cyanoacrylate fumes adhere to fingerprint residue in order for the natural ridges of the print to be lifted for forensic fingerprint analysis.
Using the Mystaire CA Series Fuming Chamber is simple:
position the non-porous evidence inside the chamber
add cyanoacrylate to the heating element
push the start button to begin fuming
when the cycle time is complete, the door will unlock and developed prints may be processed