Isola™ PRO Filtered Workstation Chemical-resistant
Featured Product from Mystaire, Inc.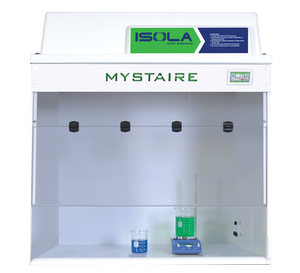 Isola PRO polypropylene filtered chemical workstation removes toxic particulate, chemical fumes and vapors protecting both the operator and the environment. Isola PRO polypropylene filtered workstations, standard with a thermally-fused integral spill tray, offer excellent chemical resistance for corrosive applications. Isola PRO polypropylene filtered chemical workstations allow for a wide range of applications. The Isola Series of filtered chemical workstations have been designed to accommodate up to six-inches of filtration.
The design of Isola's filtration matrix allows for stacking of a HEPA filter, followed by a gas-phased carbon filter, thus allowing the workstation to effectively remove both toxic particulate and chemical fumes and vapors. For high evaporation or multiple chemical applications, a full six-inch stack of gas phase carbon filtration may be incorporated. Isola PRO offers the end user and laboratory many options for fume containment as well as flexibility in laboratory design.