Cable assemblies for wireless applications
Featured Product from NAI Group, LLC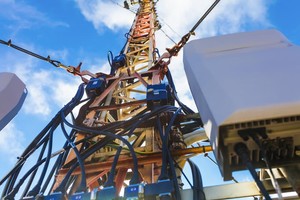 NAI Capabilities for Telecom & Data Applications
NAI has supplied the Telecommunications and Data Networking industries with a large variety of telco interconnect solutions, including cable assemblies and harnesses, as well as cable assemblies and harnesses for data networking. Today, they continue to serve the legacy business as well as the many new technologies in Telecom and Data industries.
FTTA and FTTX
The pervasive use of mobile devices has increased the need for cell towers, radios and other equipment to add bandwidth for greater use of microwave and cellular devices. NAI specializes in providing reliable and innovative connectivity solutions for high speed data runs for Fiber To The Antenna (FTTA) applications, connecting base stations with radios (Remote Radio Units) on the towers. NAI also provides solutions for Fiber Distribution Point (FDP) applications with high fiber density, as well as for FTTC, FTTN and FTTH assemblies.
For FTTA and other applications, NAI offers cable assemblies that are built to an exact length, or preterm (pre-terminated) cable assemblies when the exact length of a run is unknown. Pre-terminated assemblies are provided on crate reels, with one end of the assembly terminated with connectors. This saves the installer time in the field, and by having the assemblies prepared in advance at the NAI plant, the connections are reliable and fully tested, which also ensures a quality experience for end users.
NAI offers the following solutions for Wireless applications:
Pre-terminated fiber optic cable assemblies for FTTA
Upgrades to 4G and 5G
Fiber to the cell tower or backhaul equipment cabinets
Full fiber jumper cables for FTTA or base stations
IP67 rated cable assemblies
Cable assemblies for other wireless applications, such as DAS or WiFi
Custom RF cable assemblies
Patch cords
NAI
NAI has been providing the global marketplace with world class manufacturing solutions for decades, based on quality, reliability and service. We design and manufacture integrated connectivity solutions for Industrial Technology, Medical, Telecom and Data industries.