NB Corporation's Keyless Ball Splines
Featured Product from NB Corporation of America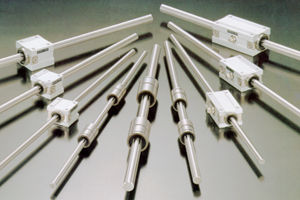 NB Keyless Ball Spline Type is free from troublesome key slot machining by adapting "Lock-Plate" for Spline Nut installation in housing. This installation method greatly contributes to compact designs, ease of installation, and total system cost savings.
NB's unique Lock-Plates and Lock-Grooves allow for easy installation of the Keyless Ball Spline to custom housings.For immediate installation, the Block type consists of a highly precision machined housing and factory installed Keyless Spline Nut. For greater moment loads, NB also offers the Wide Block type which has two factory installed Keyless Spline Nuts.
NB Keyless Ball Spline consists of Nut and Spline Shaft as a set, which has ball groove. Spline Nut has a ball retainer which allows for the Spline Nut to be removed and re-applied to the Spline Shaft without the ball elements falling out.There are four precision ground ball grooves on the Spline Shaft providing a guarantee of extremely smooth and accurate movement. The feature of optimum angle for ball contacts provide for idealistic preload which enhances the mechanical rigidity by eliminating radial clearance.
For detailed information click here for PDF.
To download CAD files, click here.
Download the NB Linear Mobile App to access drawings, specifications, and interchange capabilities!