NB's SYBS Miniature Metric Slide Table
Featured Product from NB Corporation of America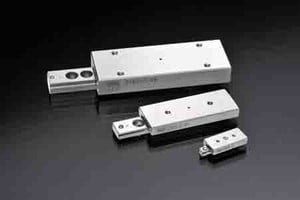 The NB miniature SYBS slide table is a limited stroke slide with the most compact envelope dimensions, featuring two ball raceway grooves. SYBS type utilizes balls as the rolling elements. The ultra compact design contributes greatly to the creation of smaller and lighter industrial machinery and equipment of all types.
NB's SYBS metric miniature slide table incorporates a unique integrated ball cage between the table and bed. All components have been produced with high precision machining technologies.
To download CAD drawings, click here.
Download the NB Linear Mobile App to access drawings, specifications, and interchange capabilities!
Ultra Compact Design
The table height of the SYBS type is 3.2 ~ 4.5mm and the width is 6 ~ 12mm. This compact envelope when compared with conventional slide tables aids miniaturization of machinery and equipment.
Low Friction - Low Noise
Since the rolling ball elements do not re-circulate, the frictional resistance will not vary significantly resulting in smooth high precision operation. Additionally, the caged balls greatly reduce the contact noise of the rolling elements for quiet operation.
High Accuracy
The ball raceway grooves of the bed and table are processed through simultaneous precision machining resulting in minimal processing errors, and bringing about extremely smooth, precise linear movement.
Stainless Steel Structure
SYBS slide tables are constructed from stainless steel materials. This allows for use in corrosive or high temperature applications. The SYBS is a perfect component for vacuum or clean room environments.
NB Corporation of America, miniature slide table, miniaturization of machinery, compact stroke slide, stainless steel slide, vacuum or clean room slide