New Slide Rotary Series Meets All Motion Demands
Product Announcement from NB Corporation of America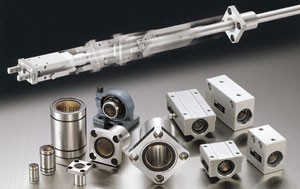 The standard bush contains cylindrically arranged ball elements within a retainer that moves inside a steel outer race. No matter the installation direction it smoothly facilitates both rotary and linear motion. Though compact, the relatively large steel balls support higher loading..
Available in sizes ranging from 6mm to 30 mm. Detailed drawings and tables provide dimensional and mechanical information. For CAD drawings, click here. Now also available in 3-D CAD.
This NB Slide Rotary Bush is designed to enable perfect, rectilinear/rotary complex motion. It offers considerable space-saving compared to conventional combinations of rectilinear and rotary bearings.
Download the NB Linear Mobile App to access drawings, specifications, and interchange capabilities!
---