Off-The-Shelf Precision Tapped Or Threaded Shafts
Featured Product from NB Corporation of America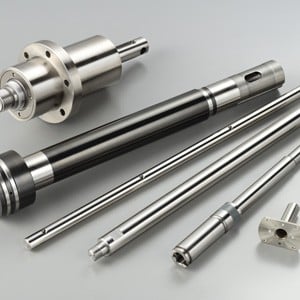 Tapped shaft can be ordered with one or both ends tapped in either case-hardened carbon steel or stainless steel. Threaded shaft can also be ordered with one or both ends threaded but only in case-hardened carbon steel. Diameters range from ¼" to 1-1/2". Travel lengths sections available from 6" to 36".
Download the NB Linear Mobile App to access drawings, specifications, and interchange capabilities!
For further information on the wide range of NB products, please contact one of our offices below:
NB Corporation of America, Chicago Headquarters.
930 Muirfield Dr. Hanover Park, IL 60133
Toll-Free: 1-800-521-2045
Tell: 1-630-295-8880
Fax: 1-630-295-8881
E-mail: info@nbcorporation.com
Western Regional Office
46750 Lakeview Blvd. Fremont, CA 94538
Toll-Free: 1-888-562-4175
Tel: 1-510-490-1420
Fax: 1-510-490-1733
Eastern Regional Office
41 Orchard Street, Ramsey, NJ 07446
Toll-Free: 1-800-981-8190
Tel: 1-201-236-3886
Fax: 1-201-236-5112