STUDROLLER™ Slide Way Ends Slippage
Featured Product from NB Corporation of America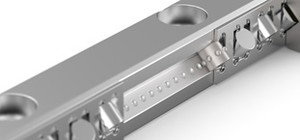 For motion control applications with super-high acceleration and deceleration, NB's new NV type STUDROLLER™ with Anti-Creep Cage Technology guarantees zero slippage. It comes in three popular sizes and provides greater load capacity. Load capacities are increased 1.4 to 2.3 times over standard SV type. Roller-to-rail contact area is extended 42 to 58 percent while the number of rollers is increased 20 to 55 percent. With STUDROLLER™, you can lower component costs and develop more compact designs.
Download the NB Linear Mobile App to access drawings, specifications, and interchange capabilities!
Question and Inquiry
For any of your question or inquiry, please contact NBCA Sales Department by phone, fax, or e-mail to the below addresses.
NB Corporation of America, Chicago Headquaters.
930 Muirfield Dr. Hanover Park, IL 60133
Toll Free: 1-800-521-2045
Tell: 1-630-295-8880
Fax: 1-630-295-8881
E-mail: info@nbcorporation.com
Western Regional Office
46750 Lakeview Blvd. Fremont, CA 94538
Toll-Free: 1-888-562-4175
Tel: 1-510-490-1420
Fax: 1-510-490-1733
Eastern Regional Office
500 N. Franklin Turnpike, Ramsey, NJ 07446
Toll-Free: 1-800-981-8190
Tel: 1-201-236-3886
Fax: 1-201-236-5112