The Precision You Demand Comes From NB
Featured Product from NB Corporation of America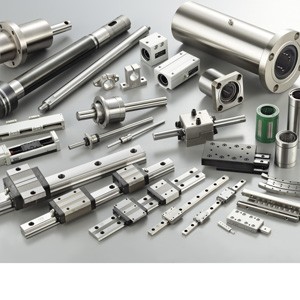 NB Linear Systems are linear motion mechanisms using the recirculating movement of ball or roller elements to provide smooth and accurate linear travel. Designed to minimize size and weight while providing superior performance in high-precision equipment, product quality is unsurpassed
The products are characterized by low friction and low noise and are available as total systems or as individual components. Nearly 600 pages of detailed drawings and tables provide dimensional and mechanical information on slide guides, ball splines, round shaft products such as Topball®, slide shafts, slide way products including tables, Gonio ways, STUDROLLER™, slide tables, actuators, slide rotary bush products, as well as many flanged products, mounted units and mounting accessories. Click here for 3-D CAD drawings.
Download the NB Linear Mobile App to access drawings, specifications, and interchange capabilities!
Question and Inquiry
For any of your question or inquiry, please contact NBCA Sales Department by phone, fax, or e-mail to the below addresses.
NB Corporation of America, Chicago Headquarters.
930 Muirfield Dr. Hanover Park, IL 60133
Toll-Free: 1-800-521-2045
Tell: 1-630-295-8880
Fax: 1-630-295-8881
E-mail: info@nbcorporation.com
Western Regional Office
46750 Lakeview Blvd. Fremont, CA 94538
Toll-Free: 1-888-562-4175
Tel: 1-510-490-1420
Fax: 1-510-490-1733
Eastern Regional Office
500 N. Franklin Turnpike, Ramsey, NJ 07446
Toll-Free: 1-800-981-8190
Tel: 1-201-236-3886
Fax: 1-201-236-5112