Upgrade Your Slide Guides
Featured Product from NB Corporation of America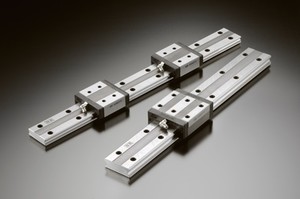 NB Slide Guides are high-precision and high-rigidity linear bearings that are remarkably interchangeable. Since they can maintain their high-efficiency and high-functionality characteristics for an extended period of time, they meet a wide range of needs, from general industrial to precision machinery. We provide quick delivery from our U.S.A. inventory.

Lubricant options, seal options, coating options and myriad mix and match styles. 15mm to 69mm rail widths. Downloadable CAD drawings.

Download the NB Linear Mobile App to access drawings, specifications, and interchange capabilities!
For further information on the wide range of NB products, please contact one of our offices below:
NB Corporation of America, Chicago Headquaters.
930 Muirfield Dr. Hanover Park, IL 60133
Toll Free: 1-800-521-2045
Tell: 1-630-295-8880
Fax: 1-630-295-8881
E-mail: info@nbcorporation.com
Western Regional Office
46750 Lakeview Blvd. Fremont, CA 94538
Toll-Free: 1-888-562-4175
Tel: 1-510-490-1420
Fax: 1-510-490-1733
Eastern Regional Office
500 N. Franklin Turnpike, Ramsey, NJ 07446
Toll-Free: 1-800-981-8190
Tel: 1-201-236-3886
Fax: 1-201-236-5112