Anti-Vibration Couplings
Featured Product from NBK America LLC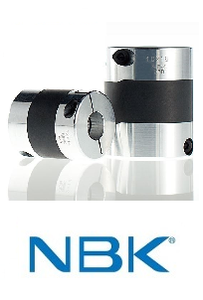 Expanding on the above statement that NBK's High Gain Rubber Type Couplings are a tier higher than the competition.
1. The Anti Vibration Type Couplings suppress hunting, improve limit gain of servomotors, thereby reducing their stabilization time.
2. These couplings speed and torque unevenness, caused by misalignment, will be suppressed.
3. Because of the couplings high damping ratio, they enable quick vibration absorption.
4. Using these couplings causes actuator drive noise to be reduced.
5. Comparing these couplings with disk and slit couplings, higher torque is allowed.
White Paper is available in the following URL.
https://www.nbk1560.com/~/media/PDF/en-us/coupling/XG2%20White%20Paper%2020191029
You can read all about these factors and more by using the following link:
https://www.nbk1560.com/en-US/products/coupling/couplicon/highreduction_type/top_materials/
Have any other questions about the High Gain Rubber Type Coupling Series? We have dedicated staff ready to help, you can reach them over the phone at 484-685-7500 or via email at info.us@nbk1560.com