Clamp Levers (with Flat Washers for Slotted Holes)
Featured Product from NBK America LLC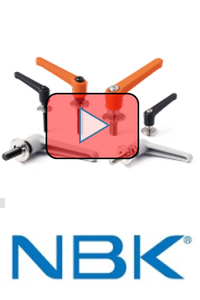 Characteristics
Plastic clamp levers with flat washers for slotted holes.
The projection on the washer seating surface prevents the washer from turning and the pointer on the top always points to the scale, making it suitable for a slide mechanism that uses slotted holes.
Washers are built into the relief cut section to prevent them from falling off. This also eliminates the need to mount washers.
The outside diameter of the washer is about 3 times the screw diameter. This provides a sufficient seating surface for the tightening area.
The zinc die cast serration ring is inserted into the plastic lever's main unit. It achieves sufficient fitting strength with the metal screw serrations.
The lever is available in 3 color variations. They can be selected by the end symbol of the part number.