High Precision Rigid Couplings
Featured Product from NBK America LLC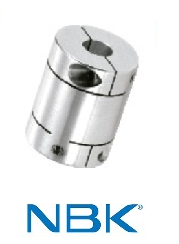 Characteristics
This is a high precision rigid coupling.
Coaxiality, bore diameter, and run out have been pursued to the ultimate level.
An inspection report is attached to all products before shipment.
Light weight and ultra small moment of inertia. High response. High response.
This is a shaft fastening structure with consideration of rotational balance and unbalance is ultra small.
Extra super duralumin (A7075) featuring the highest strength among aluminum alloy is adopted.
Application
High precision measurement device / High precision XY stage / Encoder