Insulation Couplings
Featured Product from NBK America LLC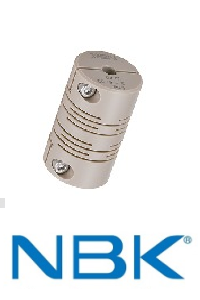 NBK's MSXP, plastic coupling lineup ranges with outside diameters between 25 and 35 mm. However, NBK can also custom make plastic couplings, so please do not hesitate to reach out to us. The plastic couplings have very low outgas levels, are vacuum-supported, low particle, heat resistant, chemical resistant, with zero backlash. They also allow some misalignment, while still providing good electrical insulation at temperatures varying from -20 to 80 degrees Celsius (-4 to 176 degrees Fahrenheit).
NBK has thoroughly tested these couplings and on our website we provide a chart of the physical properties and strength of these couplings when exposed to numerous chemicals. These plastic couplings are made with PEEK, a superior material which also allows for extremely low outgas levels.
These couplings are great for semiconductor manufacturing devices FPD manufacturing devices, matching boxes and high frequency power supplies. They can also receive NBK's cleaning service to ensure their cleanliness when used in a clean-room environment. These couplings are made of PEEK, we also offer a screw line-up using that high-performance polymer.
You can read more about our plastic couplings by using the following link:
https://www.nbk1560.com/en-US/products/coupling/couplicon/slit_type/MSXP-C/
Have any other questions about NBK's Plastic Couplings? We have dedicated staff ready to help, you can reach them over the phone at 484-685-7500 or via email at info.us@nbk1560.com