Low Profile and Small Head Screws
Featured Product from NBK America LLC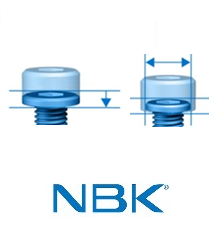 Our low profile screws come in nominals M2 to M10, they are made of materials such as steel, stainless steel, titanium, aluminum and resin.
The screws can be purely low profile, or low profile with ventilation hole types for vacuum equipment and tamper resistant types requiring special tools for fastening and removing.
NBK's length adjustment service allows customers to determine their screw's length in 1mm increments.
Our vibration resistance service helps customers as we can treat our screws with anti-loosening treatments. This saves you from having to apply adhesive or sealing tape to your screws.
We also offer a cleanroom service wherein we wash and pack your screws in a cleanroom. This can prove beneficial for FPD production devices, semiconductor manufacturing devices, medical equipment, food and beverage machinery and more.
Lastly, our captive processing enables screws to be provided with relief cut and fall-out prevention functions.
You can read more about our low profile and small head screws by using the following link:
https://www.nbk1560.com/en-US/products/specialscrew/nedzicom/lowsmallheadscrew/about/
Have any other questions about the Low Profile and Small Head Screws? We have dedicated staff ready to help, you can reach them over the phone at 484-685-7500 or via email at info.us@nbk1560.com