Miniature Screws
Featured Product from NBK America LLC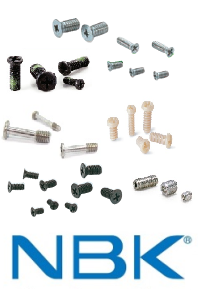 NBK's miniature screws feature nominal sizes from S0.6 to M2.6 in diameter. The miniature screws are also known as precision screws, micro screws, camera screws, and eyeglass screws.
The screws have 3 common materials for their composition: steel, stainless steel and plastic. They come with head shapes such as flat, hex, set screw and pan with socket head cap.
Recommended usage includes fixing for position of precision instruments, electronic devices and miniature linear guideway rails and tables among many more.
NBK's length adjustment service allows customers to determine their screw's length in 1mm increments.
Our vibration resistance service helps customers as we can treat our screws with anti-loosening treatments. This saves you from having to apply adhesive or sealing tape to your screws.
We also offer a cleanroom service wherein we wash and pack your screws in a cleanroom. This can prove beneficial for FPD production devices, semiconductor manufacturing devices, medical equipment, food and beverage machinery and more.
You can read more about our miniature screws by using the following link:
https://www.nbk1560.com/en-US/products/specialscrew/nedzicom/miniaturescrew/
Have any other questions about the Miniature Screws? We have dedicated staff ready to help, you can reach them over the phone at 484-685-7500 or via email at info.us@nbk1560.com