Oldham Type couplings
Featured Product from NBK America LLC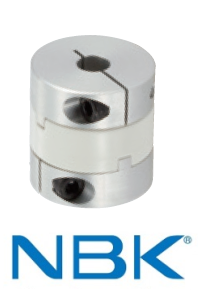 The strong features of oldham type couplings are their "High allowable misalignments" and "Small eccentric reaction force" . Slippage of hubs and a spacer allows eccentricity and angular misalignment to be accepted. Also, the load on the shaft generated by misalignment is small and the burden on the shaft is reduced.
NBK offers following oldham type couplings:
Coupling bodies made of : Aluminum alloy, steel, or stainless steel
Spacers materials: Polyacetal, PEEK, or VESPEL
Fixing method: Set screw, clamping and keyway fixtures.

The oldham couplings are usually suitable for applications that require high allowable misalignments. Suitable applications are Sputtering device / Parts feeder / Industrial sewing machine / Amusement devices and etc.
On another note, we can provide cleanroom wash and cleanroom packing services. It enables our oldhame type couplings to be used in an environment or cleanroom where heat resistance and chemical resistance are required such as FPD and semiconductor manufacturing equipments. In such cases, we recommend the couplings with spacers made from PEEK, VESPEL.
NBK can also rebore our couplings to ensure the shaft holes fit your application. This reboring can be done to create both inch and metric size shaft diameters.
You can check out more about our oldham type couplings by using the following link:
https://www.nbk1560.com/en-US/products/coupling/couplicon/oldham/
Do you have any questions about our Oldham type Coupling Series? We have dedicated staff ready to help, you can reach them over the phone at 484-685-7500 or via email at info.us@nbk1560.com
We are happy to assist you in anyway we can!