Slit Type Couplings
Featured Product from NBK America LLC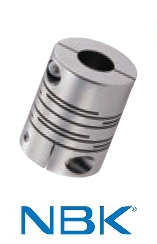 NBK's slit type couplings range in outside diameters from 8-63 mm. The couplings are very strong when working with stepping motors. NBK offers slit couplings made from aluminum, stainless steel and plastic with set screw, clamping and keyway fixtures.
Some of the recommended applications for NBK's slit couplings are transport devices, XY stages, actuators and parts feeders.
Based on size and material these couplings can be used at varying torque levels from 0.1 N.m. through 35 N.m.. The stainless steel couplings are strong against corrosion resistance while the plastic couplings are perfect for vacuum capacitors and low outgas applications such as FPD and semiconductor equipment.
NBK can also rebore our slit couplings to ensure the shaft holes fit your application. This reboring can be done to create both inch and metric size shaft diameters. Another service NBK has available is their cleanroom washing and packing, cleaning the product via one of ultrasonic cleaning and IPA cleaning.
You can read more about our slit type couplings by using the following link:
https://www.nbk1560.com/en-US/products/coupling/couplicon/slit_type/
Have any other questions about the Slit Type Coupling Series? We have dedicated staff ready to help, you can reach them over the phone at 484-685-7500 or via email at info.us@nbk1560.com