FAA Certified Repair Station
Service Detail from NDE Professionals Inc.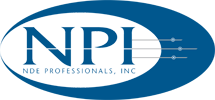 NDE Professionals, Inc. (NPI) is now an FAA Certified Repair Station for your Nondestructive Testing (NDT) needs.
NDE Professionals, Inc. (NPI) is also pleased to announce that we have achieved Nadcap accreditation for the aerospace and prime government industries. This accreditation further signifies NPI's ongoing commitment to quality.
NDE Professionals, Inc. a Non Destructive Testing (NDT) shop, is newly Nadcap accredited. Every part that we process at our facility whether commercial or aerospace, receives the benefit of the tight controls, mandatory testing and traceability required by Nadcap.
Nadcap is the Performance Review Institute's aerospace industry accreditation program, created to help ensure that the products and services provided by aerospace manufacturers and suppliers meet specified safety, quality and reliability requirements. NPI has Nadcap accreditation in liquid penetrant testing as well as a quality system accreditation.
We have a secure space of over 2000 sq ft dedicated to servicing your NDT needs which provides complete control of your component from the moment it is received until the moment it is returned to you. We are certified to perform Eddy Current, Liquid Penetrant, Magnetic Particle, and Ultrasonics. Our equipment enables NPI to provide detailed analysis and extensive test on all products to ensure quality and our staff of highly trained certified technicians have the knowledge you can count on to accurately identify defects in aircraft structure and components. Our shop standards are designed to meet the stringent standards of the aircraft industry yet minimizing turnaround time.
If you would like more information regarding our repair station capabilities or would like to have a tour of our facility please contact our Chief Inspector, Kristen Dennis at Kristen@qnpi.com or by phone at (503) 287.5255.
We look forward to hearing from you.