NDT Services for Petrochem Industry
Service Detail from NDE Professionals Inc.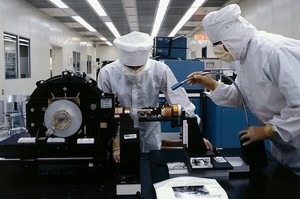 NPI provides a wide variety of Inspection and Test services to many industies, including Petrochem. Inspection personnel are highly qualified and proficient in using the latest "state of the art" equipment to examine your product. NPI understands the personnel qualification requirements of each industry and has the capability to perform those tests required by code or standard. Each project or assignment will vary with regards to the required level of expertise. The right personnel is matched to the right task.
Our Petrochemical experience includes (API 1104, API-650, API-570, API-510)
NPI has the ability to perform both laboratory and field ultrasonic testing using "state of the art" ultrasonic equipment. Ultrasonic technicians have advanced technical training in portable ultrasonic phased-array testing, flaw characterization and flaw sizing, in addition to 25 years experience in ASME/AWS flaw detection and corrosion surveys. NPI is also capable of field-testing using fluorescent water washable, visible water washable and solvent removable techniques are available. Water washable penetrant methods may be used in field applications provided EPA approved water recovery systems are in place. Magnetic Particle equipment utilizing both direct and alternating current are commonly used by NPI in the field and laboratory. A variety of Boroscopes and Fiberscopes allow NPI to perform remote visual inspections.
About NDE Professionals, Inc. (NPI):
NPI is a multi-faceted corporation providing the Northwest with Quality and NDE Level III consulting services. Over the past fifteen years, NPI has been involved with many projects in many different industrial sectors. Since 1993, NDE Professionals, Inc. has operated a Training Center for Quality Assurance and Nondestructive Testing. NPI regularly conducts a full curriculum of NDT training in the Spring and Fall each year. In addition to regularly scheduled classes, NPI provides training to several customers who require onsite NDT testing. The NPI Quality program meets the requirements of NQA-1 and IEC/ISO-17025.