Ultrasonic Phased Array Inspection
Service Detail from NDE Professionals Inc.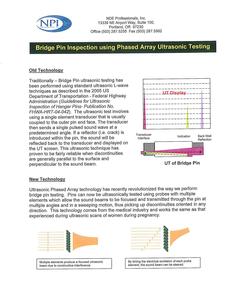 Ultrasonic Phased Array technology has recently revolutionized the way we perform bridge pin testing. Pins can now be ultrasonically tested using probes with multiple elements which allow the sound beams to be focused and transmitted through the pin at multiple angles and in a sweeping motion, thus picking up discontinuities oriented in any direction. This technology comes from the medical industry and works the same as that experienced during ultrasonic scans of women during pregnancy.
The focusing and steering of the ultrasonic beam at an aray of angles when displayed creates a visual image. As you can see in the series of images attached, the display better represents the volume of material under test. Portable Phased Array Ultrasonic Testing greatly increases the reliability of the testing process
NDE Professionals, Inc. is the leading user of protable phased array UT equipment and has extensive experience using PAUT and other inspection services for several municiples include the Corp of Engineers on a few Dam projects.
We specialize in providing Nondestructivetesting and Quality consulting to the Commercial Aerospace, Defense, Energy, Maritime, Petrochemical, Pulp and Paper, Semiconductor and Transportation Industries