Compact Dust Collectors-High Power Filtering
Product Announcement from N.R. Murphy Ltd.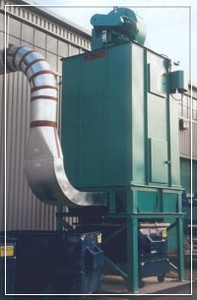 Model MKA: A square (or rectangular) version of the FB series with all the quality features and design. The principal of operation remains the same, including good primary separation of the heavier dust particles.
The most outstanding feature is the compactness of this model, yet it has the capability of effectively filtering large volumes of air and occupies little valuable space when installed inside or outside a building. The reduced size of these dust collectors also reflects a great saving in shipping costs over long distances.
Features:
Rugged yet inexpensive.
Heavy gauge galvanized all welded construction painted a standard colour finish coat.
Totally enclosed in steel for fire protection and filter section protection.
Flexible and simple design.
Many sizes and configurations available.
High capacity yet very compact.
Suitable for large and small applications.
High performance on all types of dust particles.
It fits into low ceiling areas, yet takes up minimal amount of floor space.
It can be installed inside a building as well as outside.
Quiet operation with silencer option.
Easy to empty the collected waste.
Flexible in design and capacities to fit all types of operations.
Practically no maintenance.
A good appearance.
Completely self-contained.
Easily installed by inexperienced personnel.
Manual shaking mechanism (standard equipment).
Pull through or blow through operation.
Easy operation.
All sections of the unit readily accessible.
Shipped completely assembled.
Flexible cfm ratings for top performance.
Low initial cost.
Primary separator.
Secondary multi-bag type filtration.
Retains warm air in plant.
Equalized pressure in building.
Removable support legs.
---