Why is "conanair" more useful for maintenance
Featured Product from NSXe Co. LTD.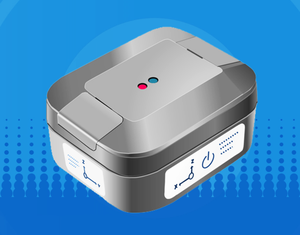 conanair Low Cost Wi-Fi Vibration Sensor got an award
NSXe Co. Ltd. (Head office: Suzuka City, Mie Prefecture; CEO: Shinji Nakayama), which supports the maintenance and efficiency of factory equipment, has been able to diagnose abnormalities in bearings using the Wi-Fi vibration sensor "conanair" as a result of conducting frequency analysis based on triaxial composite waveforms of vibration.
The main purpose of using the Wi-Fi vibration sensor "conanair" is to perform health checks on machinery and equipment, just as a doctor auscultates during a human health check. Until these days, it has been used mainly for simple abnormality detection purposes, and for precise diagnosis, a high-performance and expensive vibration sensor was required. With this new data analysis technology, most of the precision diagnosis of bearings can replace by conanair for a low cost.
All conanair models can now use this technology with a software update, which is now available free of charge to users.
[conanair-TPM Awards]
conanair received the Japan Institute of Plant Maintenance's 2020 TPM Excellent Product Award, which encourages the development of new technology for maintenance equipment.
[FFT by triaxial composite vibration waveform]
The precise diagnosis of bearing damage by frequency analysis of the envelope of the vibration waveform using FFT (Fast Fourier Transform) has been conventionally performed to detect the vibration characteristic of bearing damage, which requires vibration measurement in the high frequency range of several kHz to 10 kHz or more and requires such an expensive vibration sensor.
Today, conanair system can simultaneously measure and store vibration data in three axial directions in a low frequency band of up to 1 kHz, making it possible to perform the same precision diagnosis as has been possible with high-performance vibration sensors.
Furthermore, by synthesizing the envelope waveforms of each of the three axes' vibration waveforms and then performing frequency analysis using FFT, detection with higher sensitivity and less noise is now possible.
[Easy operation]
conanair is operated by a browser and does not require a dedicated application.
With this update, frequency analysis can be performed by FFT (Fast Fourier Transform) with the new tags. Frequency analysis can be performed immediately on the spot-on measured data, and even from previously measured data files with a simple drag-and-drop operation.
Anyone can now easily perform advanced frequency analysis.
[Our plan]
Since a large number of conanair are operated mainly for simple diagnostic purposes, we will continue to make useful improvements for users by expanding the application of precision diagnosis. We will also confirm the effectiveness of precision diagnosis in low-speed rotating bearing diagnosis, which has been considered a difficult area for precision diagnosis.
[What is TPM?]
TPM (Total Productive Maintenance) = Overall maintenance for manufacturing
It focuses on equipment and people, and is a maintenance method (maintenance technique) which improves productivity to achieve zero losses and reinforces production foundations.
After in-depth research, the Japan Institute of Plant Maintenance proposed this method in 1971. It was initially incorporated and established at Nippon Electrical Equipments Co., Ltd (currently DENSO CORPORATION).
[Feature]
-It works to reduce losses that obstruct equipment efficiency, and losses that obstruct the movement/task efficiency of people, which is related to this.
-It is a maintenance technique that all factory or company functions (Total) are engaged in.
-Reducing losses related to equipment and people will increase added value for production efficiency and time, and directly result in quality improvements, accident prevention and energy savings.
[What is TPM Awards?]
JIPM launched the PM award system in 1964, to "strengthen the improvement of enterprise constitutions and contribute to the development of industry, by promoting the modernization of plant maintenance and the development of plant maintenance technologies."
The TPM Excellence Awards, in which the results of plants' TPM activities are judged and honored, have been awarded to some 2,000 plants since the awards' inception. These awards play a valuable role in JIPM's assessment operations for the development of Japan's industrial sector.
-TPM and the TPM logo are trademarks or registered trademarks of Japan Institute of Plant Maintenance in Japan and other countries.
-The rights of information, system, policies, concepts, know-how, and assessment criteria of TPM Awards are all reserved to Japan Institute of Plant Maintenance regardless of whether such rights have legal status or not.
[Reference]
Japan Institute of Plant maintenance
Japan Institute of Plant Maintenance – Just another WordPress site (jipmglobal.com)
TPM Awards
TPM Awards – Japan Institute of Plant Maintenance (jipmglobal.com)