Mechanical Simulation
Product Announcement from NX CAE - Siemens PLM Software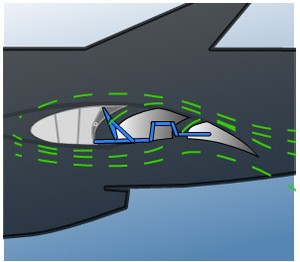 Product Development Challenges
Companies today face a constant pressure to shorten time-to-market and increase innovation while also keeping tight control over product development costs. As a result, simulation has become a key product development activity.
However, in some cases, simulation has also become a process bottleneck and has not delivered the anticipated efficiency and productivity gains. There are several issues: stand-alone CAE tools are designed for specialists, thus limiting wider adoption; companies use multiple design and simulation software leading to numerous, error-prone data transformations; different work groups prepare models independently, duplicating effort and making it difficult to understand design trade-offs; and simulation environments are disconnected from the rest of the product lifecycle including requirements, engineering workflows and manufacturing.
Making simulation pervasive throughout the product lifecycle
Siemens PLM Software's NX for Simulation solutions enable companies to overcome these hurdles and leverage simulation throughout the product lifecycle. NX has best-in-class technologies to prepare geometry for analysis, which reduce overall model building times by up to 70%. Efficiently solving large simulation models is a priority with NX Nastran and the integrated flow and thermal solvers. New capabilities such as co-simulation of motion and controls, test correlation, and finite element analysis of assemblies allow engineers to better understand system effects early in the development process. Finally, Siemens is leveraging its deep understanding of data management and engineering simulation to bring new solutions to the market, that allow the larger product development community to benefit from the value of investments in simulation.
Key Capabilities and Benefits
Solution Capabilities
Linear and nonlinear stress, vibration, motion, dynamic response, durability, flow and thermal analysis, and optimization
Integrated multi-physics solvers
Best-in-class tools for model preparation with multi-CAD support
PLM integration with advanced simulation structure management
Open application and system support
Solution Benefits
Shorten development cycles with faster turnaround on simulations
Accelerate innovation and deliver new insights on product performance
Reduce prototypes and lower development cost
Reduce warranty exposure by identifying and eliminating problems earlier
Increase confidence and eliminate errors with tight PLM integration
---