Nanogels - characterization of "smart" materials
Product Announcement from NanoSight Ltd.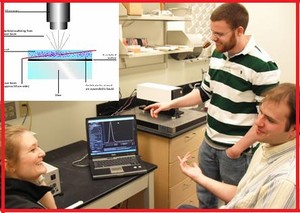 The Georgia Tech research group, with the help of Nanosight's instruments and Nanoparticle Tracking Analysis, works on the development and implementation of new, environmentally responsive (or "smart") materials for photonic materials, bioanalysis and biomimetics. The approach the group is taking is to design hydrogel nanoparticles that undergo large changes in their chemical, mechanical, optical, or electrical makeup in response to a chemical stimulus, biomolecular interaction, or electromagnetic field; such materials can be viewed as amplifiers or sensitisers of the environmental event. As a result of their environmental sensitivity, nanogels have potential in a number of applications.

Principal user is PhD candidate, Michael Smith. He has been very impressed with the instrument. "The NanoSight has been an enabling tool for us in the characterization of dilute nanogel samples, where DLS fails to produce reliable correlation data. For instance, in our recent investigations of degradable nanogels, we used the NanoSight for sizing and number density estimation throughout the erosion reaction. In these studies, sample concentrations were typically very low at later stages of the degradation reaction (due to particle loss). Similarly, the NanoSight is effective at measuring the fractionated samples from Asymmetrical flow field-flow fractionation (where samples are greatly diluted following separation)."
Read more about this research and development project
Learn more about Nanoparticle Tracking Analysis
Visit the Georgia Tech group's website
---