Dowel Pins Provide Precise Alignment of Fastened Components
Featured Product from National Bolt & Nut Corporation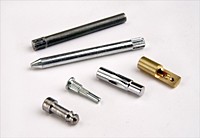 Dowel pins are commonly used as shelf supports in furniture or as supports for hanging items because dowel pins provide precise alignment of fastened components.
Constructed from heat treated alloy steel, National Bolt & Nut offers a series of dowel pins in both standard ( 0.0002 inches) or oversize ( 0.001 inches) styles. All of the premium dowel pins meet ANSI B18.8.2 dimensional specifications.
For example, the PN-12661 dowel pin fits the following specifications.
Series: Standard series
Size: 1/8 x 1
Weight/C: 0.50 lbs
Plain finish
Other materials and finishes are available. For further information, call or send an information request.