Hardened Bearing Surface of Helical Spring Lock Washers Allows For More Uniform Torque Control
Featured Product from National Bolt & Nut Corporation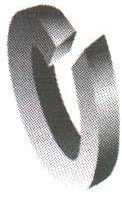 Helical spring lock washers possess a hardened bearing surface that allows for more uniform torque control and harnesses greater bolt tension per unit of applied torque. Helical spring lock washers are one of the most common anti-loosening components used for a great variety of general industrial assemblies.
Constructed from hardened steel material, the helical spring lock washers meet ANSI B18.21.1 dimensional specifications and are equipped with a plain finish.
The PN-12137 Helical Spring Lock Washer, which is part of the light series, is 2 in. in size.
Other materials and finishes are available. For further information, call or send an information request.