C65500 High-Silicone Bronze "A"
Product Announcement from National Bronze & Metals Inc.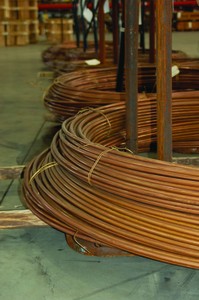 C65500 is a high strength, engineering alloy that has excellent resistance to a wide range of corrosives, including fresh and salt water, most acids, alkalies, salts, and organic chemicals. However, it is not suitable for use with sulfides, nitric acid, acid chromates, or oxidizing salts such as ferric chloride. It has a combination of corrosion resistance, strength, resilience, and formability that makes them among the most widely used copper alloys. Noted to be non-sparking, galling resistant, and fatigue resistant. Typical applications of C65500 include electrical conduit, pump shafts, valve stems, tie rods, fasteners, marine and pole-line hardware, nuts, bolts, screws, rivets, nails, bushings, screen cloth and wire.
---