CDLR Conveying System Integrates Batch Weighing
Featured Product from National Bulk Equipment, Inc.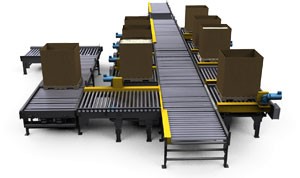 NBE mechanical conveying systems for bulk material containers and packaging are critical to the effective transfer of material during production operations. Whether moving material containers into or out of production, conveying containers from process to process, or from processing to packaging, NBE mechanical conveying systems ensure material is moved efficiently and accurately.
NBE mechanical conveyors offer integrated, NTEP-certified batch weigh systems, accurate to /- .01%, p to a total container capacity of 4,500 pounds. NBE NTEP-certified weigh systems provide valid, accurate, and repeatability weighing in bulk bag and bulk container filling applications. NBE integrated automation brings system-wide conveyor controls together into a single, menu-driven, touch-screen MHI. Conveying functions such as drive controlling, material sensing, container routing, and control layer monitoring immediately contribute to increased processing efficiencies by reducing material waste, optimizing line speed and capacity, and helping to provide a safe operator work environment.