NFPA 70, National Electrical Code (NEC) Softbound
Featured Product from National Fire Protection Association (NFPA)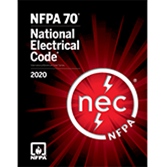 NFPA 70, National Electrical Code (NEC) Softbound
Prepare for the electrical challenges of tomorrow, today, with NFPA 70, National Electrical Code (NEC), 2020 edition.
The world never stops changing, so it's crucial to keep learning how to keep it safe. Incorporated by reference in all 50 states and used across the globe, NFPA 70®, National Electrical Code® (NEC®), is the benchmark standard for electrical safety in residential, commercial, and industrial settings.
NFPA 70, NEC, was first published in 1897 and is continually put through a rigorous review process to keep it up to date with the most current industry practices, emerging trends, and the development and introduction of new technologies. The new NEC provides the latest requirements for safer and more effective electrical design, installation, and inspection, including provisions for wiring, overcurrent protection, grounding, and equipment.
Get up-to-code and prepared for the safety challenges of new sources of electrical power with the NEC, 2020 edition.
The revised and expanded NFPA 70, National Electrical Code, features state-of-the-art information for safe electrical practices for public and private buildings, homes and structures, outdoor yards and lots, utility equipment, installations that connect to the power grid, and consumer-owned power generation systems and equipment.
Content has been added, edited, and reorganized to address safety for workers, energy systems and electric vehicles, limited energy, and communication systems.
Impactful changes include:
New requirements for exterior emergency disconnects of one- and two-family dwellings for improved electrical safety for emergency responders
Revisions to service disconnect rules to help protect electrical workers from arc flash hazards
Adapted and adjusted requirements for installation practices of new technologies to meet the evolving demand of power over Ethernet
Updates to modernize tables currently in use for calculations to reflect improvements in energy efficiency and align with evolving codes
Revised requirements for ground-fault protection within marinas and boatyards
Introduction of guidelines for the safe use of electric vehicles (electric vehicle power export equipment) as a backup or emergency power source for a building or a home
Reorganization of Article 310, including new user-friendly numbering for important ampacity tables, and new definition for cable bundle in Article 725
Relocation of surge protection device requirements to new Article 242
Revisions to alternative energy systems and electric vehicle requirements to clarify what portions of the PV system are covered by the requirements of Article 690 and the line side and load side connections of interconnected power supply sources, and to clearly distinguish energy storage systems from storage battery systems
Reorganization of Article 800 to provide a general set of requirements to apply throughout the Chapter 8 articles
Revisions to requirements for communications cables that are also carrying power to communication devices and revisions to the current limit for cables carrying power and data
The NEC, 2020 edition, introduces significant new requirements for:
The residential installation of receptacle outlets serving island and peninsular countertops and for surge protection of services supplying dwelling units
Working space for "housekeeping pads" for electrical equipment, the installation of wiring methods in exit enclosures, sizing supply and load conductors used with adjustable-speed drive systems, and AFCI protection of branch circuits in patient sleeping areas in care facilities
Calculating the load of electric vehicle supply equipment with variable current settings
Worker safety in identifying the source of power for disconnecting means and for egress from spaces containing large electrical equipment
Grounding of disconnecting means installed on the supply-side of service disconnecting means
Cables installed exposed on ceiling surfaces and sidewalls
Special occupancies, special equipment, and special conditions, including installation of splash pads, the use of "Type P" cables in hazardous classified locations, and the reinspection of swimming pools and other bodies of water
Help protect life and property with the most relevant electrical requirements.
Get the cutting edge information you need to identify and overcome the latest hazards and complexities in electrical work. Order your copy of NFPA 70®, National Electrical Code, 2020 edition, today.
NFPA webinars are presented by industry subject matter experts who take you inside today's codes and give you the latest industry and research developments. Learn about important technical changes in NFPA codes and standards, and stay up-to-date on fire protection, life safety, health care, electrical safety, wildfire, and fire safety research topics.
NFPA overview
The National Fire Protection Association (NFPA) is a global self-funded nonprofit organization, established in 1896, devoted to eliminating death, injury, property and economic loss due to fire, electrical and related hazards.
NFPA delivers information and knowledge through more than 300 consensus codes and standards, research, training, education, outreach and advocacy; and by partnering with others who share an interest in furthering our mission. Our mission is to help save lives and reduce loss with information, knowledge and passion.
Catalog:
NFPA's
online catalog
provides a direct way for customers to purchase NFPA codes and standards, companion products, and public education materials. Download the print catalog. (PDF)

Codes and Standards:
NFPA is widely known as a codes and standards organization – that's the backbone of what we do, and it always will be. Our mission is to provide you with the information and knowledge you need to do your job well in today's ever-changing environment. Our 300
codes and standards
are designed to minimize the risk and effects of fire by establishing criteria for building, processing, design, service, and installation around the world. The more than 250 technical committees, comprised of approximately 9,000 volunteers, review public inputs and vote on the revisions in a process that is accredited by the American National Standards Institute. NFPA provides
free online access
to its codes and standards.
Public education
As part of NFPA's mission to eliminate death, injury, property and economic loss from fire, electrical and other hazards, NFPA develops easy-to-use educational programs, tools, and resources for all ages and audiences.
Outreach and Advocacy
Our Fire Sprinkler Initiative encourages the use of home fire sprinklers through increased awareness and adoption of local ordinances or model codes.
Our Firewise Communities program encourages local solutions for wildfire safety by involving homeowners, community leaders, planners, developers, firefighters, and others in the effort to protect people and property from wildfire risks.
Training:
NFPA training includes a variety of convenient ways to access codes and standards training and earn CEUs. Choose from classroom training, online training, on-site training, conferences and certification.
Research
NFPA is the premier resource for fire data analysis, research, and analysis. This helps guide educational outreach, supports the work of NFPA Technical Committees, and frames the fire-loss picture for organizations, the media, and the general public.
Membership:
NFPA
membership
is the easiest way to stay up-to-date. Membership helps you make the right decisions on the job by giving you the latest news and information, professional connections, and access to NFPA staff who can answer your technical standards questions. Members are invited to maximize their benefits by joining one or more of our 12
industry-specific Member Sections
. Section membership is free and included with your NFPA membership.
Publications
NFPA Journal

®, our members-only bimonthly magazine, covers industry news.
NFPA Journal® Buyers' Guide lists products and services from leading fire protection and fire service manufacturers and consultants.
NFPA Journal® Latinoamericano is the #1 source of fire, security, and life safety information in Latin America.
See a full list of NFPA's publications.