NFPA On-Site Training
Service Detail from National Fire Protection Association (NFPA)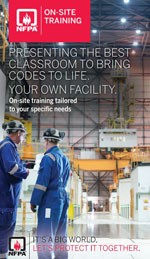 Our on-location training programs are custom-designed to address your safety and educational requirements and establish a common language and information-base for your team.
Bringing members of your organization together in the same room to receive knowledge and training from expert NFPA® instructors is among the most effective and efficient solutions for addressing one-the-job and workplace safety concerns. On-site training allows participants to learn in their own environment, putting codes into context and bringing them to life. Our handpicked educators have the expertise to provide a deeper understanding of the reasoning behind codes, leaving individuals and teams with a firmer grasp on how to apply requirements to practical applications.
Join the ranks of ConocoPhillips, NASA, Proctor & Gamble, the U.S. Navy, and many other leading businesses, institutions, and government agencies that have benefited from in-person NFPA instruction at their facilities. We'll partner with you to tailor a program that meets your objectives and maximizes the impact of this unique learning experience.