Custom Silicone Molding Services
Service Detail from National Rubber Corporation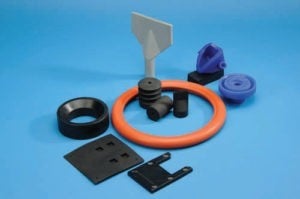 National Rubber specializes in the molding of a wide range of elastomers from organic rubber and engineered synthetic compounds to silicone using a variety of efficient manufacturing processes including compression, transfer, injection, and insert molding for custom products that conform to your design requirements.
Compression molding is the most fundamental method of molding, also very cost-effective and widely used. It involves compressing pre-heated rubber into a mold cavity and holding it until cured. Benefits of compression molding include:
Produces more complex parts
Low tooling costs
Good for high durometer parts
Rapid production
Fewer knit lines
Transfer molding also utilizes a press and a mold. However, the process involves forcing the material through small holes into the mold cavity. Benefits of transfer molding include:
Used for more detailed designs
High production rates
Short production cycle
Reduction in product finishing time
Injection molding is the cost-effective method and is best suited for higher volumes. The process involves feeding the material into a press, where it is cooled or heated as per material compound and injected into the mold. Benefits of injection molding include:
Consistency
Highest rate of production
Parts have little or no flash
We can produce:
Boots and Bellows
Bushing
Diaphragms
Grommets
Lip Seals
O-rings and Gaskets
Oil Seals
Rubber to Metal Bonded Components
Rubber Sheets
Valve Stem Seals
…and more
If you already have a design for your custom molded part, we can produce them for you. Or if you need assistance with your design, our staff can design most any part to your specifications.
PROVIDING ENGINEERED SOLUTIONS FOR YOUR CUSTOM RUBBER MOLDED AND EXTRUDED PARTS AND DIE CUT GASKETS
LOOKING FOR CUSTOM RUBBER MOLDED PARTS, EXTRUSIONS AND DIE-CUT GASKETS?
National Rubber Corporation is an innovative premier parts manufacturer specializing in
engineered solutions for rubber molded parts, extrusions and gaskets, plus secondary
fabrication services. An ISO-certified company, we serve an ever-growing list of nationally Recognized customers in a variety of industries, from agriculture to food and beverage, from industrial to mining, to name only a few.
Whether you need a simple part or a multifaceted industrial or mechanical part, we will
work with you to design, prototype and manufacture custom parts to meet your exact
specifications. We have the ability to customize your products to accommodate any size, shape or applications. What's more, we've got the capacity, the manpower and the
determination to deliver quality products on time, every time.
At National Rubber, we are driven by customer requirements, and we use the tools of the quality process to meet or exceed these requirements.

Products:
Grommets
Misc.shape
Silicone sheet
Bumpers
"U" Channels
O-Ring
"C" Channels