Mixing the Most Demanding Engineered Compounds
Service Detail from National Rubber Corporation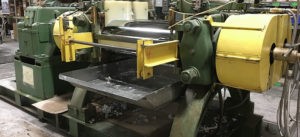 Using variable speed, 50 horsepower mixers, we can mix even the most demanding engineered compounds. Each mixer is followed by three high horsepower, variable speed control mills that can provide continuous batch blending. The result is total consistency from batch to batch.
Consistency is also assured by our state-of-the-art control systems. These systems supply an extensive array of data that we can use to solve problems and enhance the performance of your compounds. In addition, drilled front rolls and precision temperature control capabilities enable us to handle silicone and other heat sensitive compounds.
LOOKING FOR CUSTOM RUBBER MOLDED PARTS, EXTRUSIONS AND DIE-CUT GASKETS?
National Rubber Corporation is an innovative premier parts manufacturer specializing in
engineered solutions for rubber molded parts, extrusions and gaskets, plus secondary
fabrication services. An ISO-certified company, we serve an ever-growing list of nationally Recognized customers in a variety of industries, from agriculture to food and beverage, from industrial to mining, to name only a few.
Whether you need a simple part or a multifaceted industrial or mechanical part, we will
work with you to design, prototype and manufacture custom parts to meet your exact
specifications. We have the ability to customize your products to accommodate any size, shape or applications. What's more, we've got the capacity, the manpower and the
determination to deliver quality products on time, every time.
At National Rubber, we are driven by customer requirements, and we use the tools of the quality process to meet or exceed these requirements.

Products:
Grommets
Misc.shape
Silicone sheet
Bumpers
"U" Channels
O-Ring
"C" Channels