Recognized Nationwide Supplier of Die Cutting Services
Service Detail from National Rubber Corporation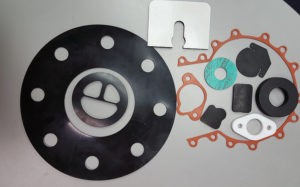 National Rubber Corporation is a recognized nationwide supplier of die cutting services for a wide variety of industries and applications. We employ a wide range of rubber materials including EPDM, Viton®, Nitrile, and Silicone, to name only a few. We provide die cut product quantities from prototypes and short runs to large production runs. At National Rubber, we take pride in our ability to produce accurate die cut parts that are guaranteed to meet customer specifications and perform perfectly within the intended application.
Precision die cutting is a process of converting sheets or rolls of non-metallic materials into die cut parts with speed, accuracy and uniformity. Die cutting is fast, consistent and cost-effective for parts that range from miniature washers to large gaskets. Accurate die cut parts applications include seals, gaskets, bumper pads, barriers, packing, vibration dampers, dust seals and diaphragms, among others. Die cutting is a very versatile process capable of holding tolerances as tight as ±.02". Die cut parts have a high degree of uniformity, even across high volumes.
Our team of engineers can help our customers with material, tolerance and process information to help choose the right material to customer specification.
As an ISO certified manufacturer, our customers can be assured that their die cut parts are held to stringent quality standards. In-house testing and inspection capabilities include a range of material testing and dimensional inspection in accordance with customer specifications.
National Rubber can die cut parts up to 48" wide and 72" in length. For larger parts, we can "dove tail" or interlock parts.
National Rubber is your source for the custom die cut parts you need to make your business operation run smoothly
There are a number of reasons that knowledgeable customers turn to use for their die cut products:
We offer competitive pricing.
We offer quick turn-around times.
We can produce custom-designed die cut parts to your specifications.
We offer technical expertise.
Our customers don't come to us just because they want custom die-cut parts. Our customers pick up the phone looking for solutions for a partnership that helps them streamline their processes, lower costs and just make their lives easier.
LOOKING FOR CUSTOM RUBBER MOLDED PARTS, EXTRUSIONS AND DIE-CUT GASKETS?
National Rubber Corporation is an innovative premier parts manufacturer specializing in
engineered solutions for rubber molded parts, extrusions and gaskets, plus secondary
fabrication services. An ISO-certified company, we serve an ever-growing list of nationally Recognized customers in a variety of industries, from agriculture to food and beverage, from industrial to mining, to name only a few.
Whether you need a simple part or a multifaceted industrial or mechanical part, we will
work with you to design, prototype and manufacture custom parts to meet your exact
specifications. We have the ability to customize your products to accommodate any size, shape or applications. What's more, we've got the capacity, the manpower and the
determination to deliver quality products on time, every time.
At National Rubber, we are driven by customer requirements, and we use the tools of the quality process to meet or exceed these requirements.

Products:
Grommets
Misc.shape
Silicone sheet
Bumpers
"U" Channels
O-Ring
"C" Channels